ARMY CHILDREN'S GRAVES
Not only was the child mortality rate much higher in earlier centuries than it is today, but the nature of their parents' profession has placed some unfortunate children of serving soldiers in the wrong place at the wrong time, so that while some died on the march (see, for instance, '
DEATH ON THE MARCH: FALLING BY THE WAYSIDE ON THE RETREAT TO CORUNNA, 1808–9
'), others were killed by enemy action. And because army families have historically been constantly on the move, the graves of army children who died in the places where their parents were posted (sometimes of diseases, such as cholera and diphtheria, common to those locations) may be found in some corner of a foreign field or else in the UK, but still a long way from 'home'.
Having received a number of requests for help in locating the burial sites of nineteenth- and twentieth-century army children, TACA has now established the Army Children Graves Register. As with so much relating to British army children's history, there is little information readily available on the whereabouts of many of their graves, which means that the list of names on the list is far shorter than it should be. Click
here
to see the current list, and if you'd like further information about any of the names on the Army Children Graves Register, please contact TACA. Similarly, please get in touch if you would like to add any names to the list; photographs of army children's graves are also most welcome.
Left:
Shorncliffe Military Cemetery, Kent.




ADVICE ON LOCATING ARMY CHILDREN'S GRAVES FROM THE COMMONWEALTH WAR GRAVES COMMISSION AND THE MINISTRY OF DEFENCE
As well as commemorating the fallen from the armed forces of the Commonwealth who died during World War I and its immediate aftermath (specifically from 4 August 1914 to 31 August 1921) and World War II (3 September 1939 to 31 December 1947), the Commonwealth War Graves Commission (CWGC) holds a roll of honour for the civilian casualties of World War II. The roll of honour gives the names of casualties and their addresses, but no burial details; it can be searched on the CWGC's website (
http://www.cwgc. org
) using the 'Force' type 'Civilian'.
In some instances, the Ministry of Defence (MoD) employs the CWGC to maintain the graves of service casualties who died during periods unrelated to the two world wars ('non-world-war graves'). These include a number of service dependants, including wives and children. Information about these individuals and their graves is usually held by the CWGC, but is not accessible via the CWGC's website. Details may be confirmed in response to a written request or telephone enquiry (click
here
for the CWGC's contact details).
The MoD's Joint Casualty & Compassionate Centre (JCCC) may be able to answer enquiries about the graves of military personnel and some service dependants who died after 1 January 1948 and were buried or interred in cemeteries overseas. Written enquiries should be addressed to: Post Death Administration, JCCC (Joint Casualty & Compassionate Centre), Imjin Barracks, Innsworth, Gloucester GL3 1HW; alternatively, e-mail jccc@spva.mod.uk.
Note that in the case of service dependants who died while the serviceman was stationed in the UK, no records are held by the MoD because the serviceman would have been responsible for the burial arrangements. In addition, the MoD is unlikely to be able to help with enquiries concerning those who died before World War I and during the interwar period because funeral and burial arrangements then fell to individual units, which means that it holds no centralised records. In such cases, the MoD suggests searching the GRO death registers (see the '
HISTORY MATTERS
' page for advice) and the military diaries held in the National Archives (
http://www.nationalarchives.gov.uk
).
PICTURES: TROODOS MILITARY CEMETERY, CYPRUS
Judith Millidge kindly photographed some army children's graves in the military cemetery, Troodos, Cyprus, for TACA. 'The British loved the Troodos mountains', she writes, 'and used them as they did Indian hill stations to retreat from the brutal summer weather on the coast. This cemetery (which is currently very inaccessible) is just outside the main resort and was used until 1934.'
Above:
A view of Troodos Military Cemetery looking south.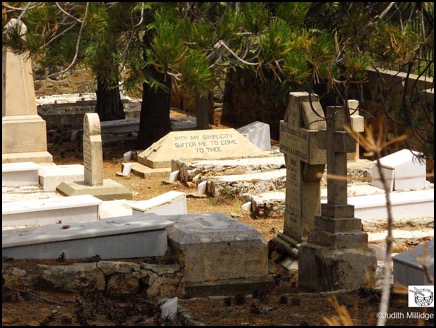 Above:
A view of Troodos Military Cemetery looking west.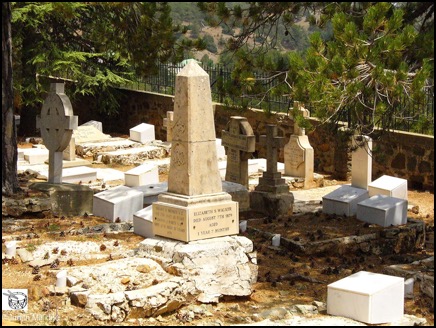 Above:
A view of Troodos Military Cemetery looking south-west.

Above:
The grave of Margaret Elizabeth Hamilton, the daughter of a sergeant in the Connaught Rangers, who died at the age of four months in 1894, and who is buried with her father.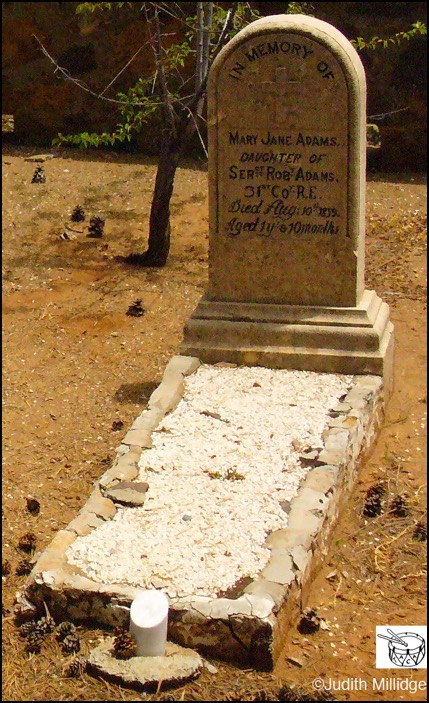 Above:
The grave of Mary Jane Adams, whose father was a sergeant in the Royal Engineers when she died in 1859, aged one year and ten months.
TACA CORRESPONDENCE: MEMORIAL AT ALL SAINTS' CHURCH, HUTTON, BRENTWOOD, ESSEX
Judy Warner contacted TACA with a query regarding a memorial that she spotted at All Saints' Church, Hutton, Brentwood, Essex, to four former pupils ('Dukies') of the Duke of York's Royal Military School in Dover, Kent (which still educates the children of British forces personnel,
http://www.doyrms.com
). Judy wrote:
'Having seen the memorial to four Dukies in this churchyard, I was intrigued, and want to find out more about these boys. Why they are listed as dying at Hutton, and why just these four covering the period 1917 to 1919? How and why was the memorial raised in 2006?'
Art Cockerill, an expert on the history of the Duke of York's Royal Military School, responded, kindly supplying the following information:
'For the duration of World War I (1914-1918), the Duke of York's School, which had been relocated from Chelsea, London, to Dover, Kent, in 1909, was evacuated to Hutton, near Brentwood, Essex. The reason for the evacuation was to provide the military authorities with a transit point for troops moved to and from the Western Front. The Dukies buried in the graveyard of All Saints' Church, Hutton, died of various ailments while the school was in its wartime quarters at Hutton. The memorial to the four Dukies in question was erected by the Old Boys' Association in 2006; rather later in the day, of course, but in dutiful memory of the four boys who died at Hutton.'

For further information on the Duke of York's and Royal Hibernian military schools, visit Art's website:
http://www.achart.ca
.
TACA CORRESPONDENCE: CAN YOU HELP LOCATE TWO BABIES' GRAVES IN INDIA?
Diana M de Marco has contacted TACA with the following request for assistance in locating the graves, in India, of two babies who died during the 1920s.
'My small brother, Anthony Errol Prior-Palmer, died when the 9th Lancers were stationed either at Trimulgherry or Secunderabad during the 1920s. Either in All Saints' Church or another church, there is a wooden panel with the names and dates of my tiny brother and another small baby who died at about the same time. For some time, a charming Indian woman tended the children's graves.

My mother and father have both gone, and we would very much like to know where these two tiny people are buried so that a young relative can visit the graves.

My father was then Captain Otho Prior-Palmer, and my mother (born Frankland) was Barbara Mary Prior-Palmer. She was very young when her baby died. Despite the desperate help of some nuns, both babies died in their first few months of life. If you know of anyone who might know where they are buried and/or in which church is the finely carved wooden memorial to both children, I would be very grateful indeed.'


Having noted Diana's request for help, Beverly Hallam, research officer at the
Families in British India Society (FIBIS)
, managed to locate the burial entry for Anthony Errol Prior-Palmer in the Ecclesiastical Returns held at the British Library. This states that Anthony was buried in Bolarum Church Cemetery, which Beverly believes may have been attached to the Holy Trinity Church, Bolarum. Many thanks to Beverly, and to Valmay Young, FIBIS' webmaster, for their help in discovering this information.
If you can assist Diana further, please contact TACA, and we'll forward your message to her.
PICTURES: SHORNCLIFFE MILITARY CEMETERY, KENT
Peter Malan photographed a number of army children's graves at Shorncliffe Military Cemetery in Kent in 2010. Along with his photographs, he sent the following description of the cemetery: 'The graveyard is in a lovely setting. There seem to be various graves in different positions, including some in overgrown areas and some with concrete markers, but with no name or any details at all'.
Left and below:
Four general views of Shorncliffe Military Cemetery.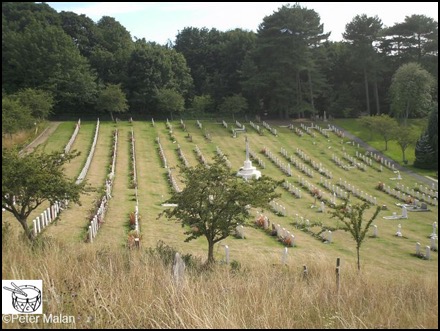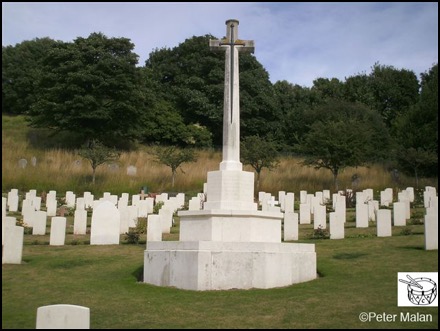 Below:
Army child Molly Muriel Bailey, whose death is commemorated at Shorncliffe Military Cemetery, died in March 1926, aged four months.
Below:
The grave of Linda Carruthers, the daughter of a private in the King's Own Scottish Borderers (KOSB), who lived for only seven hours before her death in 1964.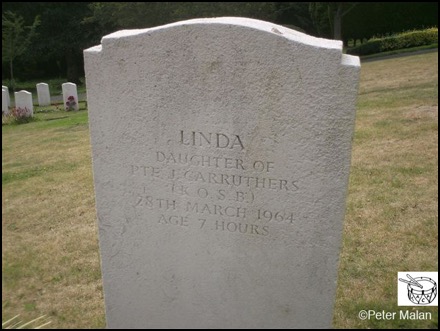 PERSONAL STORY: 'IN 2010, I VISITED MY BROTHER'S GRAVE AT TIDWORTH MILITARY CEMETERY'
Leslie Rutledge's baby brother, Stephen, was born and died at Tidworth Military Hospital, Wiltshire, in 1955. In '
PERSONAL STORY: LIFE AS AN ARMY CHILD, 1950–70, PART II
', Leslie explained the circumstances of Stephen's death and burial. He later added a postscript to this sad story: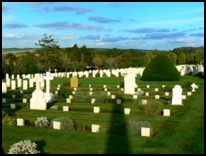 'In 2010, I visited my brother's grave at Tidworth military cemetery. Luckily for me, the groundkeeper was at home, and we were able to establish very quickly where my brother was buried (the whole cemetery,
left, i
s extremely well documented). Stephen's grave
(below)
is today marked with a stone of identification and lies among three rows of children's graves of about sixty children who, like my brother, died very early in life between 1945 and 1970. It was especially pleasing to see that a lot of those graves have since had memorial headstones placed on them, something that families will have to look at. Stephen is also buried between two girls, which is nice – there's nothing like a bit of female company!'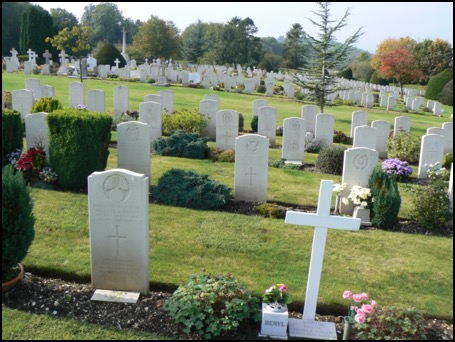 See also below, 'PERSONAL STORY: 'MY MISSION TO ERECT A HEADSTONE ON MY BROTHER'S GRAVE'.
PERSONAL STORY: 'MY MISSION TO ERECT A HEADSTONE ON MY BROTHER'S GRAVE'
In his contribution '
PERSONAL STORY: LIFE AS AN ARMY CHILD, 1950–70, PART II
', Leslie Rutledge documented the birth and death of his brother, Stephen, in Tidworth, Wiltshire, in 1955. He later reported (in 'PERSONAL STORY: 'IN 2010, I VISITED MY BROTHER'S GRAVE AT TIDWORTH MILITARY CEMETERY'', see above) that he had located and visited Stephen's grave, but found it without a headstone. Having decided to erect a memorial stone on his brother's grave, in May 2011, Leslie described the 'administrative nightmare' that he encountered as a result:
'I knew I couldn't just go to a local stonemason and have it done as these things are regulated under strict rules. Was the local council or the military responsible for the keeping of that cemetery? So I made a few inquiries and got absolutely nowhere. It seems that service wives and children mean nothing to the CWGC [Commonwealth War Graves Commission] or the MoD [Ministry of Defence]. I remembered that a lot of children in Tidworth military cemetery had had stones put on their graves, and so I drove back down to Tidworth to find out first-hand how that had been achieved.

The cemetery caretaker couldn't tell me anything about how I should go about having a stone put on a grave, but he did give me a contact address in camp. I drove up to the camp and was met at the gate by a retired lieutenant colonel who was in charge of the logistics of the cemetery. He then introduced me to two ladies who knew the rules inside out, or so they thought. The CO [commanding officer] then came in to see us and we had a chat and a cup of tea – I must admit that we were treated very well by all. At this point, we established that the MoD, and not the local council, was responsible for military cemeteries. But that's where the problems started because the MoD had changed the rules on those graves some five years ago, the reasoning behind it being that some cemeteries were becoming a mess (with gravestones of all shapes and sizes), and the MoD wanted to stop that. Of course, I gave them a huge headache because my brother's grave was non-military (i.e., he was not a serving soldier) and more than fifty years old.

The first rule that they brought in was that all gravestones had to be of the typical military nature (of white sandstone), and all had to conform with military dimensions. "No problem," I thought, "that sounds fair enough", but then the hammer fell when we were told that non-serving personnel were no longer allowed to have a headstone. The wife of a serving soldier who dies is not allowed to have a headstone unless her husband is also buried in the same grave later . . . and as children will always be alone, it seemed that no headstone is allowed at all. There did seem to be one exception to that rule, which allowed a grave to be marked with a very simple, flat memorial stone with the occupant's name on it. Anyway, the ladies promised to look into the whole matter, which included contacting the MoD to find out exactly what I can do. It would be a real pity if Steven's grave remains as concrete block number F094a.'
Eventually, Leslie was given permission to erect a 'dependant's headstone' on Stephen's grave, and after completing the necessary MoD paperwork, contacting the stonemason, finalising the details of the headstone and inscription and paying for it, this was duly done early in 2012. Shortly afterwards, Leslie sent TACA following message and photographs:
'Just to let you know that the mission to erect a headstone on my brother's grave at Tidworth military cemetery is now complete. The headstone was erected some three weeks ago and today my mother and all my siblings (with the exception of my brother, George) travelled to Tidworth to inspect it and lay flowers. For my mother, it was the first time that she had been back to the grave since she left Tidworth in 1956, and for my sisters, it was the first time that they had been to the grave – three of them were not even born when Stephen died. The whole process has taken me some eighteen months to complete, but I think you'll agree that the wait was worth it. Now Stephen can finally rest in peace in a recognised grave.'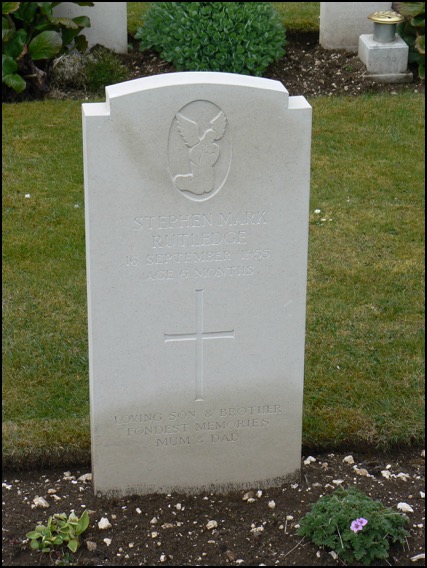 Above and below:
Stephen Rutledge's newly erected headstone.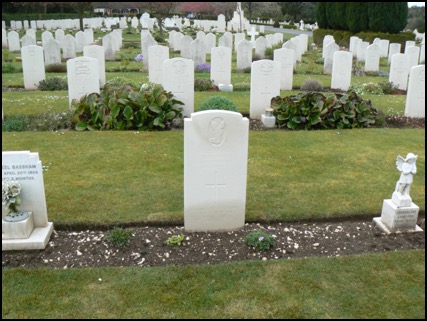 Below:
Stephen Rutledge's mother and siblings and the floral tributes that they laid on his grave.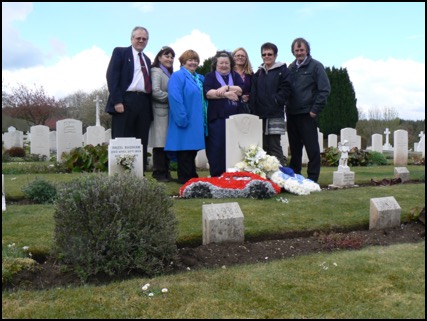 TACA CORRESPONDENCE: 'CAN YOU HELP ME FIND MY BROTHER'S GRAVE?'
Shelagh Jones contacted TACA for help in locating the grave of her brother, Graham, who was killed in an accident in Rinteln, (West) Germany, when he was five and Shelagh was a baby. Shelagh explained more:
'My father died many years ago. I am fifty-one now, and was born, with my twin sister, Margaret, in 1959, at BMH Rinteln. We had two brothers, Graham and Alan. Graham was knocked down and killed at the army camp that was there at the time, where my father, who was in the Royal Artillery, was stationed. He was only five years old. There would have been a lot of news about it at the time.

What I would dearly love to find is his grave. Will it be in the local cemetery or the camp itself? His actual name was Stanley Graham Jones. Both of my parents are dead, so I can't get information from them, but I remember seeing a photo of the grave: there was a white cross and the name Jones on it. I also know that my parents were asked if they wanted to bring his body back to Scotland, where he was born, but they said "No, bury him at Rinteln". My father was Frederick Jones and my mother was Margaret. They went over to Rinteln with two boys, and, having been born there, we twin girls were only six months old when Graham died on 29 July 1959. Please help me find where he is.'
Shelagh also made the same request to the Commonwealth War Graves Commission (CWCG) and promptly received a reply containing details of a record indicating that her brother is buried at the British military cemetery in Hanover (or Hannover), Germany. Click
here
for further information about the Hanover Military Cemetery as given on the CWCG's website.
TACA CORRESPONDENCE: RONALD ARTHUR LIMBURN (1953–65), AN ARMY CHILD WHO DIED IN SINGAPORE AND NOW LIES IN HAMPSHIRE
Ronald F Limburn, who served in the Royal Army Ordnance Corps (RAOC) as a WO1 (conductor), has been in touch to tell TACA about his son, Ronald Arthur Limburn, who was born at Cambridge Military Hospital, Aldershot, Hampshire, on 23 September 1953, and who accompanied his parents to Singapore in November 1958. He lived with his family in Singapore until May 1961, and again from November 1964 until his death on 9 September 1965. His father writes:
'My son, Ronald Arthur Limburn, died on 9 September 1965 in Singapore, and was subsequently buried at Ulu Pandan Cemetery, Singapore. Ronald was buried near the plot of the first wife of Lance Corporal (later Captain, Queen's Gurkha Officer (QGO)) Rambahadur Limbu, of the Gurkha Rifles, who won the Victoria Cross during the Borneo Campaign.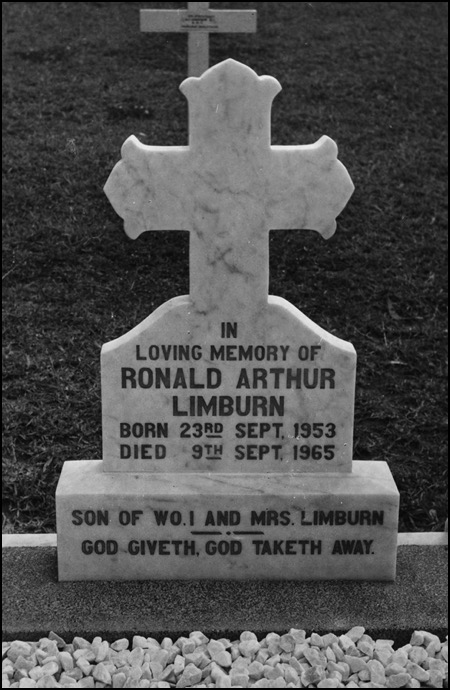 Above and below:
Two photographs of Ronald Arthur Limburn's grave in Ulu Pandan Cemetery, Singapore.
The Singapore government required the land of the cemetery for redevelopment in 1975. Ronald's remains were therefore cremated and are now buried at Waterlooville Cemetery, Hampshire (Borough of Havant).'

Above:
Ronald Arthur Limburn's grave at Waterlooville Cemetery, Hampshire.
LINKS
If you're searching for an army child's grave, the following links may be helpful.
CLICK HERE TO ACCESS THE ARMY CHILDREN GRAVES REGISTER